Enough is Enough- Workers send Moe and the Sask Party a message at Saskatoon cabinet office
Released August 19, 2022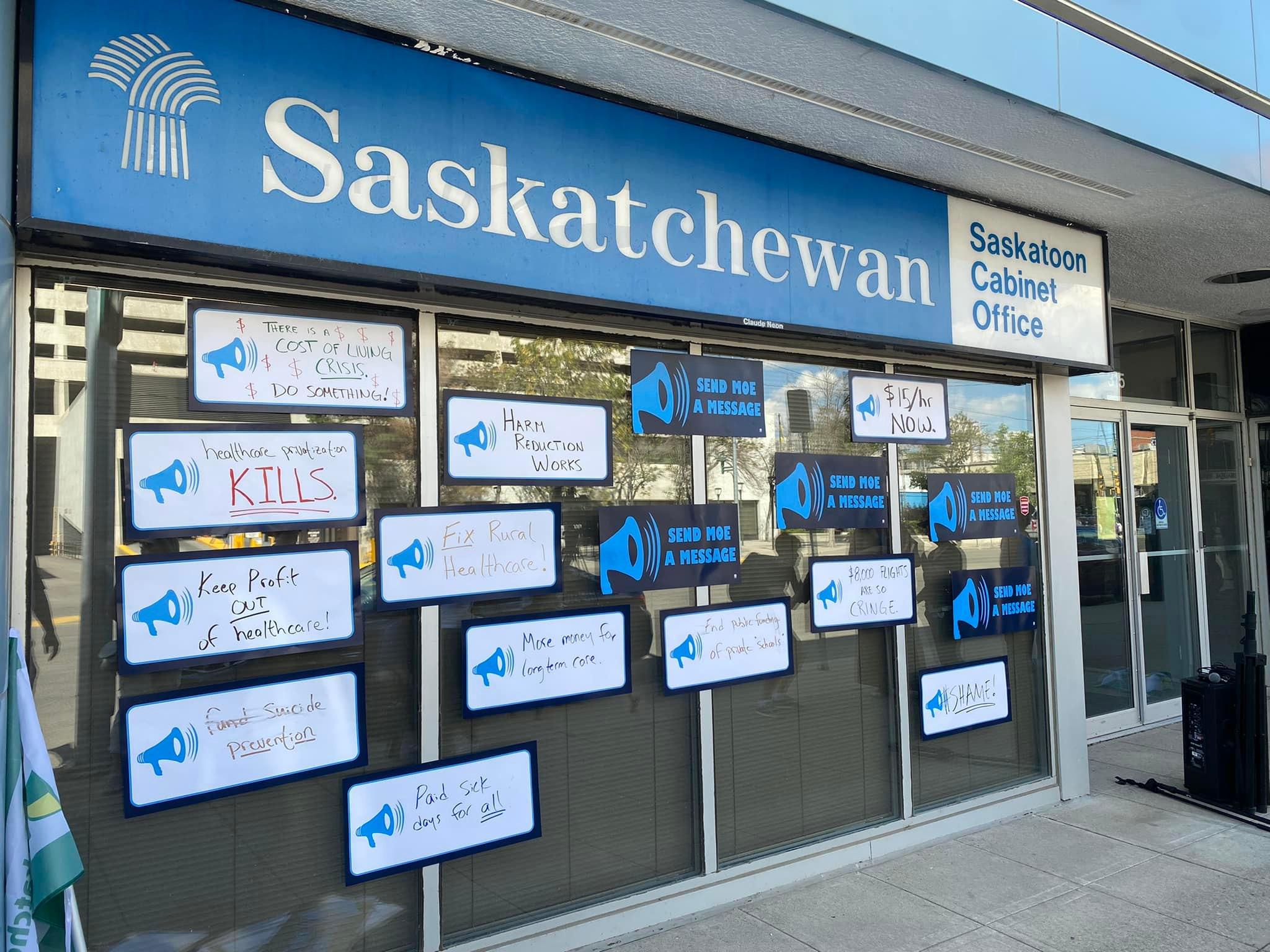 Today, workers gathered in front of the government cabinet office in Saskatoon to send Scott Moe and the Sask. Party a message that workers have had enough of their government's inaction.
"It's been a hard summer for workers all across the province," said SFL President Lori Johb. "Inflation has driven up the cost of living and working people and their families are struggling to make ends meet. The Sask. Party's solution has been to do nothing, in fact, they made the situation even worse by raising taxes and hiking power rates. Workers have seen just how little the Sask. Party cares about making their lives more affordable, and they are fed up."
Johb pointed to the health care crisis as another area where the Sask. Party is failing.
"We're facing a critical staffing crisis in healthcare- workers are burnt out and hospitals are overwhelmed and being shut down across the province due to short staffing. The Sask. Party's solution has been to ignore the problem, and make the situation even worse by taking resources away from the health system by looking at privatization as a way out of the mess they created in healthcare over the course of the pandemic."
Johb also noted the cuts made to education and the fact that school boards are struggling to balance their budgets while the government continues to fund private schools, including Legacy Christian Academy, which is facing shocking allegations of abuse.
"The Sask. Party is making cuts in our schools and taking resources away from the public system and into private schools while our public schools are understaffed. The fact that Legacy Christian Academy is set to receive hundreds of thousands of tax dollars in funding this year despite investigations into their abuse of students while public school boards make cuts to balance their budgets is shameful."
Johb said that the SFL and provincial labour movement will be working in the upcoming byelection to elect an NDP MLA that will hold the Sask. Party to account in the upcoming byelection.
"Workers are demanding better from our government, and today's message from workers is that they are tired of Moe and the Sask. Party's inaction on so many issues and their ignoring of the problems working people in this province are facing," said Johb.
"Saskatchewan's labour movement will do everything we can to send Scott Moe and the Sask. Party a message by electing a progressive voice who will put workers first in the upcoming byelection, and work to elect a new government in two years who will actually listen to the concerns of working people."